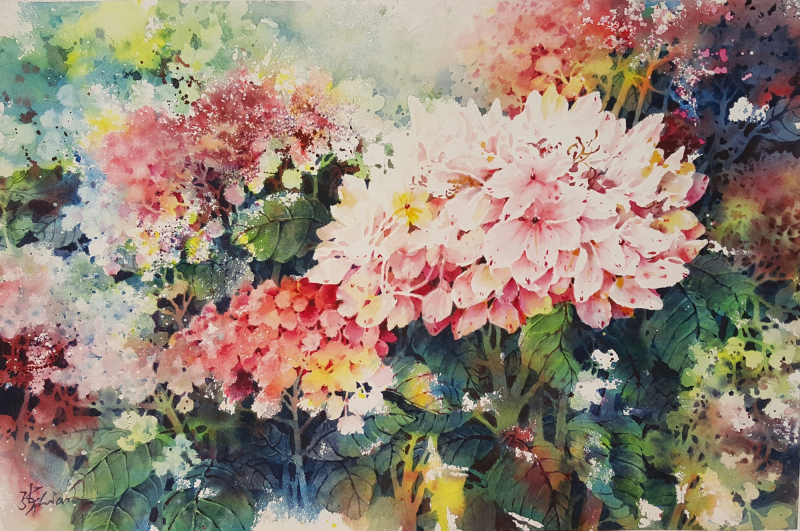 Watercolor Art
with Lian Quan Zhen
$28500
Safety First.  Artisan Village instructors will maintain social distancing guidelines in each of our classes.  The instructor will wear a face shield or a mask at all times.  We value our registrant's and our instructor's health and will sanitize before and after all events.
June  9, 10, 11 Artisan Village is excited to bring world class artist Lian Quan Zhen to Graying, MI! 
Lian is a much sought-after watercolor and painting artist.  He is one of the most popular authors of North Light books.  Lian painted as a hobby while practicing family medicine in China.  He immigrated to the US in 1985 and obtained his Bachelor of Arts Degree and then his Master of Architecture degree from MIT.  His paintings hang in collections all over the world.  He teaches his techniques exposing us to new products and new styles of painting.  Feel free to check out his website for additional information.
During the three day watercolor painting session, Lian teaches basic techniques such as composition and color, and his unique methods including "Color Pouring and Blending" and "Paint Around." Four to six short demos each day lead into practice sessions that allow students to learn more easily. Participate in helpful critique sessions as Lian takes you through several paintings.
This workshop is open to students of all skill levels. 
Please bring your own lunch and snacks (microwave available) or order from a local restaurant and have it delivered. The coffee shop in the gallery carries a variety of beverages and pastries. 
MATERIALS LIST
Brushes - Synthetic and/or sable brushes: Windsor and Newton, American Journey and Loew-Cornell recommended.
Round - number 4, 6 & 8 Pointed - number 2, 3
Flat - ¼ inch (with wedge shape at end of handle for applying masking), ½ inch and 1 inch
Colors - tubes  (only three colors are used)
One tube from each of the three primary colors: Blue - Antwerp Blue (Windsor and Newton), Prussian Blue or Phthalocyanine Blue Red Shade (M.Graham &Co.); Yellow - Hansa, or Azo Light light (M.Graham &Co.), Windsor Yellow (Windsor and Newton), Bumblebee or aureolin Yellow (American Journey). Red - Pyrrol or Napthal Red (M.Graham &Co.), Permanent Red Deep (Windsor and Newton) or Joe's Red American Journey) Other similar primary colors are OK. 
Paper 
Half sheets (15"x22", or 16"x20") 140 lb Cold Press watercolor papers, Arches or Kilimanjaro, NO EXCEPTIONS. 3-day workshop needs 3
Palette
One large size palette like John Pike Watercolor palette (not little ones; large white color plate is OK).
Masking Fluid
A new bottle of light colored art-masking fluid: Pebeo Drawing Gum, Shiva Liquid Masque by Richeson Mediums or Windsor and Newton's yellowish color masking are recommended. If Cheap Joe's does not have them buy them from Amazon.com.
Other
One plywood board or gatorboard size about 16"x23" for taping down the half sheet size watercolor paper, Three small dishes for making color liquids, a roll of masking tape or clear packing tape, 2 sheets of graphite papers (transfer paper, erasable), a hair dryer, a medium size water sprayer, a brush washer (a jar contains water for cleaning brushes), an apron, 3 sheets of tracing papers size about 15"x12", a pair of scissors, a B2 or #2 pencil, erasers and one roll of white paper towel. If you can't blow the color liquids while painting, get a can of Compressed Gasduster from office supply store. 
Ausable Artisan Village and the Creativity Center are handicap accessible. 
Questions about the class?
Call Xenia at 269-317-7184 for artistic inquiries or Andrea 231-499-2228 for facilities or location question.
Jun

9

-

11th

,

2021

Wed - Fri

for

1 week

from

9:00 am - 4:00 pm
Main Floor Stage & Studio
(989)745-6096
219 Michigan Avenue
Grayling, MI 49738 Get directions